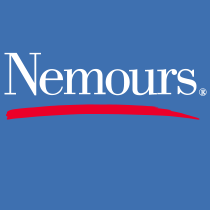 Job Detail
Job Description
As one of the nation's leading pediatric health care systems, Nemours is committed to providing all children with their best chance to grow up healthy. We offer integrated, family-centered care to more than 300,000 children each year in our pediatric hospitals, specialty clinics and primary care practices in Delaware, Florida, Maryland, New Jersey and Pennsylvania. Nemours strives to ensure a healthier tomorrow for all children – even those who may never enter our doors – through our world-changing research, education and advocacy efforts. At Nemours, our Associates help us deliver on the promise we make to every family we have the privilege of serving: to treat their child as if they were our own. 
Equity, diversity, and inclusion guide our growth and strategy.  We are looking for individuals who are passionate about, and committed to leading efforts to provide culturally relevant care, reducing health disparities, and helping build a diverse and inclusive team environment. All Nemours associates are expected to ensure that these philosophies are embedded in their day to day work with colleagues, patients and families.
This position is responsible for ensuring continual organizational compliance and ongoing readiness with quality and patient safety standards and regulations required by The Joint Commission, Centers for Medicare & Medicaid Services (CMS), state agencies, and/or other related entities.  The individual in this role proactively plans, implements, coordinates and continually improves Nemours' efforts related to compliance, accreditation, and licensure requirements.  Provide consultation to ensure timely and accurate revision of policies, procedures, forms, and order sets.  The individual will have familiarity with regulatory and compliance standards, hospital policies
Serves as the Nemours Delaware Valley expert responsible for regulatory and licensing requirements for The Joint Commission, CMS and other agencies.
Tracks and provides timely communication regarding new and revised regulatory standards/licensing requirements and interpretations to administrative and clinical leadership, staff and faculty.
Provides education and consultation that ensures leaders, staff at all levels, and medical staff(s) understand the requirements of regulatory,  accreditation, and licensing organizations and Nemours Delaware Velley continuous readiness status

Facilitates development of tools, policies, and procedures, and learning aids to promote compliance with standards.

Responsible for all aspects of the plan to ensure continual readiness plan with clinical regulatory and accreditation requirements of external agencies. This includes but is not limited to:
Development, coordination, and implementation of the continual readiness plan
Ongoing assessment of the continual readiness plan; identification of needed improvements; preparation and implementation of plans to achieve needed improvements; provide periodic performance and status review
Organizational, department, section, unit and program assessments and identification of risk
Development of remedial action plans in coordination with operational leadership
Plan and scheduling readiness mock surveys
All ongoing communication with regulatory agencies regarding survey and readiness activities
Completion of annual TJC application
Responding to agency requests for revision and corrective action plans
Primary staffer from Q/S team on the Continuous Regulatory Readiness Committee. In conjunction with the chair accountable to ensure the priorities of the committee, including organization logistics such  as the agenda, participant involvement, etc. completion of items requiring follow-up etc. are managed.  Additionally partner with the chair to support and track, identified work and improvements of the team.
Completes all annual applications, licenses and the like as required.
Ensure that administrative, clinical, and chapter leaders are continuously aware of Nemours readiness for surveys, including description of specific issues that are in need of improvement
Lead the coordinated response to external accrediting or regulatory agency visits. Participate in other external reviews as required.
Works closely and builds effective working relationships with accreditation and regulatory agencies such as Joint Commission, CMS, and the relevant state departments of health.
Works closely with Patient Safety/Risk Management, Quality Improvement and Clinical Analytics including coordination of the Joint Commission Performance Improvement and NPSG standards compliance.
Note: Additional miscellaneous duties and responsibilities, as may be assigned from time to time by employee's supervisor. Serves as a cross-functional member of the quality/safety team.
Requirements
Baccalaureate Degree required.
Master's Degree in healthcare field preferred or captured within three years of movement into the position.
Nursing degree preferred.
Working knowledge of hospital practices and protocols as well as applicable regulations and guidelines
Our dedication to professionals who are dedicated to children frequently earns Nemours a spot on the list of top workplaces in the communities we serve. Our Associates enjoy comprehensive benefits, including our unique "Bridge to a Healthy Future" pediatric health plan, an integrated wellness program, opportunities for professional growth, and much more. As an equal opportunity employer, Nemours focuses on the best-qualified applicants for our openings.
Other jobs you may like
LAS VEGAS, Nevada, United States