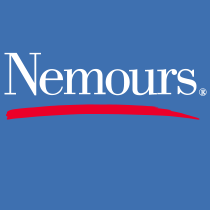 Job Detail
Job Description
As one of the nation's leading pediatric health care systems, Nemours is committed to providing all children with their best chance to grow up healthy. We offer integrated, family-centered care to more than 300,000 children each year in our pediatric hospitals, specialty clinics and primary care practices in Delaware, Florida, Maryland, New Jersey and Pennsylvania. Nemours strives to ensure a healthier tomorrow for all children – even those who may never enter our doors – through our world-changing research, education and advocacy efforts. At Nemours, our Associates help us deliver on the promise we make to every family we have the privilege of serving: to treat their child as if they were our own.
Equity, diversity, and inclusion guide our growth and strategy. We are looking for individuals who are passionate about, and committed to leading efforts to provide culturally relevant care, reducing health disparities, and helping build a diverse and inclusive team environment. All Nemours associates are expected to ensure that these philosophies are embedded in their day to day work with colleagues, patients and families.
The Medical Assistant II (MA II) is an important liaison between the patient/family, provider, and other care team members. The MA II is responsible for coordinating patient flow by assisting in clinical data collection and review for patient intake, ensuring the appropriate information is available to the provider, and entering pertinent history in the medical record. The MA II performs and assists with clinical procedures in accordance with divisional/department responsibilities as directed by the provider and per protocol. The MA II is also cross-trained to perform designated business processes associated with an outpatient visit ensuring that all demographic and financial information is accurate. The MA II acts as a resource and provides cross coverage as needed, as well as serves as a coach and mentor to new medical assistant associates.
Essential Functions:
Greets patients and families at the clinical setting according to Nemours Standards of Behavior. Verifies patient identity using two patient identifiers (name and date of birth). Prepares exam rooms, clinic equipment and computer technology by maintaining inventory and supplies for the outpatient visit. Rooms patient ensuring appropriate documents are with the patient, including required diagnostic reports. Preforms clinical duties to support the outpatient visit to include, but not limited to the following:
Assess and document height, weight, head circumference and vital signs
Documents reason for visit, chief complaint and initiates orders defined by the use of smart sets as appropriate for scope of service and Nemours' protocol.
Performs phlebotomy to obtain blood specimens. Transcribe, collect, label and arrange for transportation of specimens.
Assist with patient examination/treatment.
Perform and document point of care testing.
Administers and documents vaccines as ordered by the provider.
Operate required medical equipment.
Accepts delegated tasks from nursing colleagues within their scope of service to assist in the flow of patient care.
Preforms tasks associated with Nemours' outpatient business front desk functions to include but not limited to:
Make confirmation calls that are not completed by Televox to ensure all visits are in "confirmed" status prior to visit or per Department protocol.
Confirm authorization and/or collect referrals for the days' visit. Notify Pre-registration and Authorization Department of visits scheduled the same day, as necessary. Fax hard copy referrals to the PRAG department within 24 hours of receipt.
At the time of patient check-in, while maintain patient confidentiality and HIPAA requirements:
Confirm all patient personal demographic information
Confirm patient identification with two identifiers
Confirm legal guardianship
Confirm referral information for patient visit, if applicable
Prepare, completed and/or collect consents and all other required documents
Scan insurance cards and other important documents
Collect and post co-pays and past due balances
Achieve Registration Accuracy of at least 95%
Schedule follow-up appointments utilizing iGuide to determine participation, if appropriate.
Throughout shift, regularly communicate with clinical staffing the assigned work area regarding the status waiting patients, particularly those who have been waiting more than ten minutes. Communicate with waiting patients/families to ensure they have status updated on their appointment. Reconcile payment collections accurately at the end of each shift, as per Cash Collections Policy, and completed End of Day (EOD) Reports including DCRF and LDCRS. Complete assigned work queues daily. Maintain inventory of clerical supplies and ensure the work environment and outpatient waiting room is in an orderly and clean condition to ensure patient safety and security. Work with families to facilitate MyNemours interaction by providing activation codes and assisting in the sign-up process. Maintain computer and electronic system competency including but not limited to processes for: scheduling, appointment cancellations and order entry for clinical system, use of iGuide, EOD status changes, work queue processing, linking referrals, posting "other" payments, use of scanner device and electronic insurance verifications.
Additional Requirements:
High School Diploma
Graduated from an accredited Medical Assistant Program.
Current AHA Healthcare Provider (HCP) Certification required
Medical Assistant Certification: acceptable certifications are Certified Medical Assistant (CMA), Registered Medical Assistant (RMA), National Certified Medical Assistant (NCMA) and Clinical Medical Assistant (CCMA). Certification must be obtained within 6 months of employment.
1-3 years of job related experience
Our dedication to professionals who are dedicated to children frequently earns Nemours a spot on the list of top workplaces in the communities we serve. Our Associates enjoy comprehensive benefits, including our unique "Bridge to a Healthy Future" pediatric health plan, an integrated wellness program, opportunities for professional growth, and much more. As an equal opportunity employer, Nemours focuses on the best-qualified applicants for our openings.
Other jobs you may like